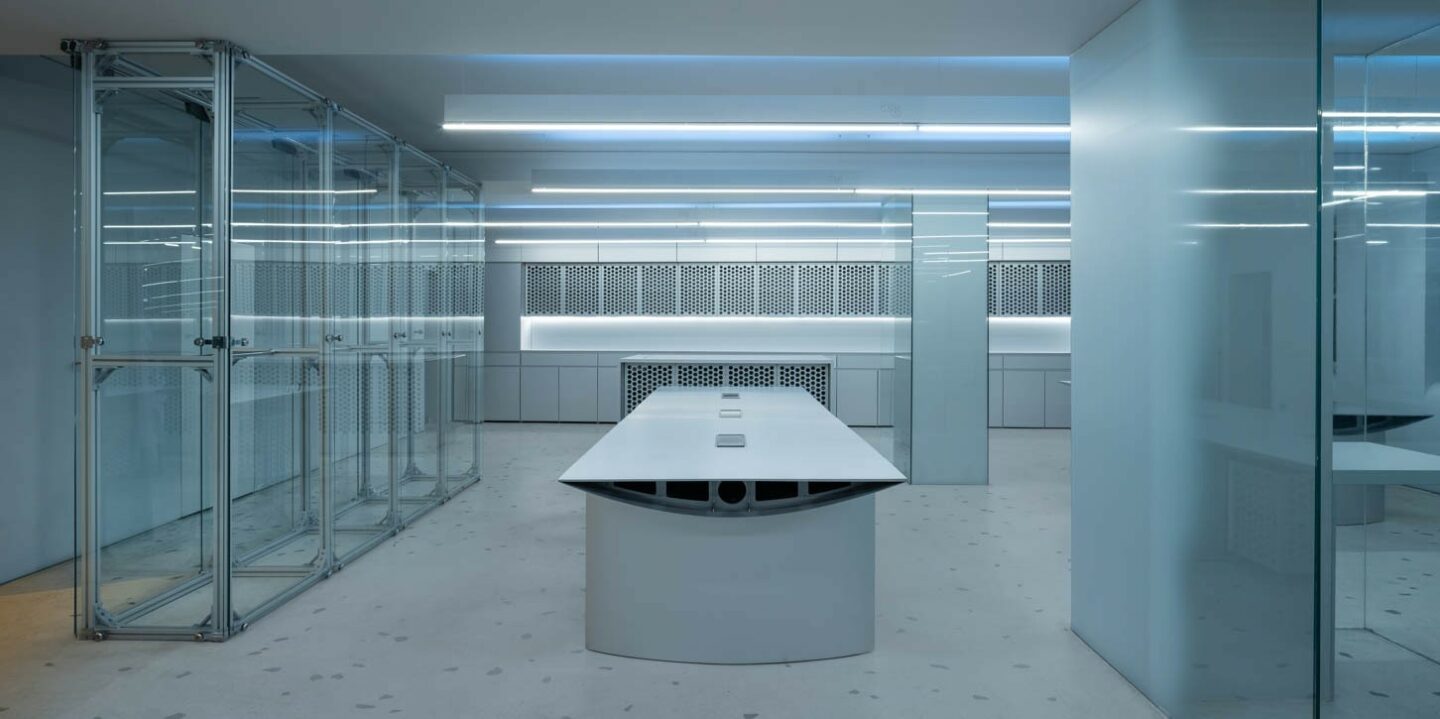 Reflect Studio HQ
Location
Istanbul, Turkey
Architect
Salon Alper Derinboğaz
Team
Nida Dilara Karışık, E. Ece Emanetoğlu, Emmy Bacharach, Eylül İçgören, Mert Ozan Er, Çiçek Su Yavuz
Reflect Studio – Laboratory for Future Making seeks to provide a sustainable space and high quality product, scientific detailed research and testing must take place alongside creative inspiration.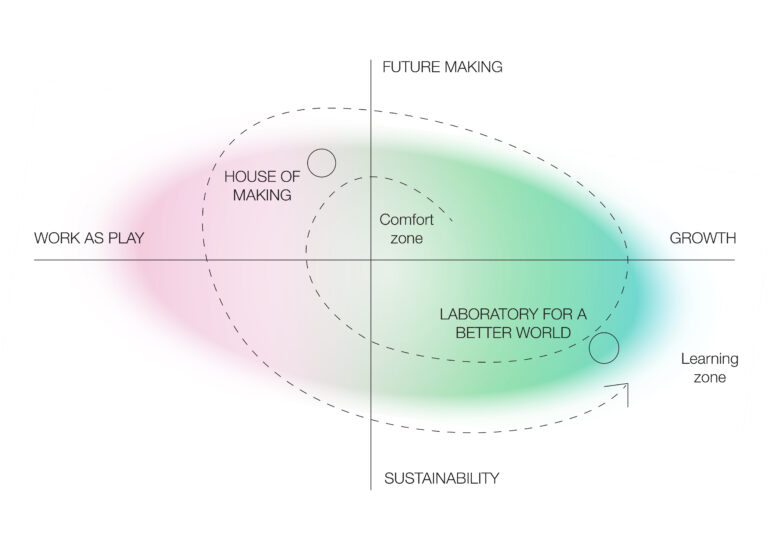 The excitement of laboratory test tubes, clean steel surfaces and bright coloured chemicals is inspiration for the interior design of Reflect 'laboratory'. Going beyond the commercial motives of the office space, the project brings philosophy of making; simple shapes and geometric assemblies propose a new philosophy of making for furniture design.
Our proposal for the Laboratory for Future Making is based on a sustainable approach to repurposing the existing space and furniture while introducing new strategies. Natural ventilation is encouraged through the installation of smart windows with builtin sensor-operated ventilation shafts and the potential for automatic or operable opening. Upcycling of existing furniture is proposed alongside flexible furniture that give space for sustainable growth.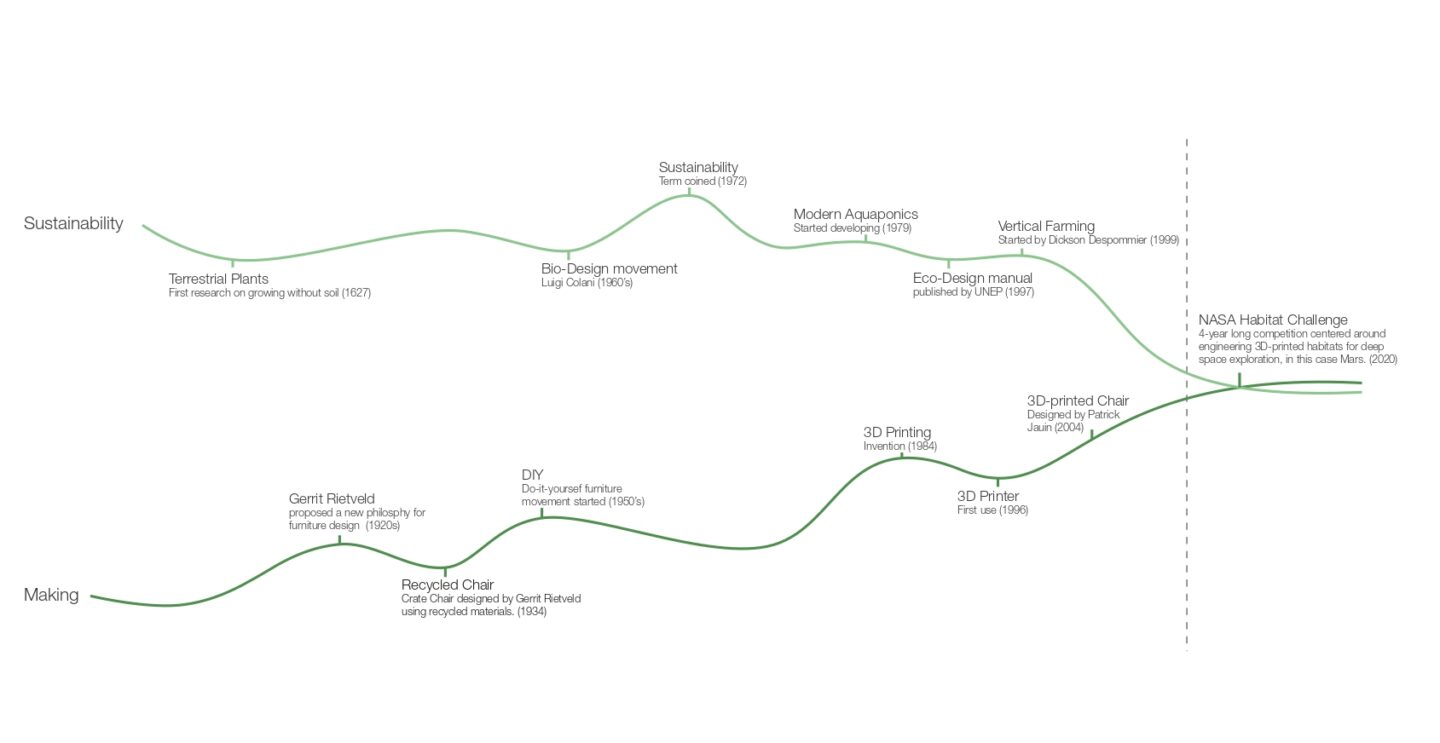 / Form Generation Process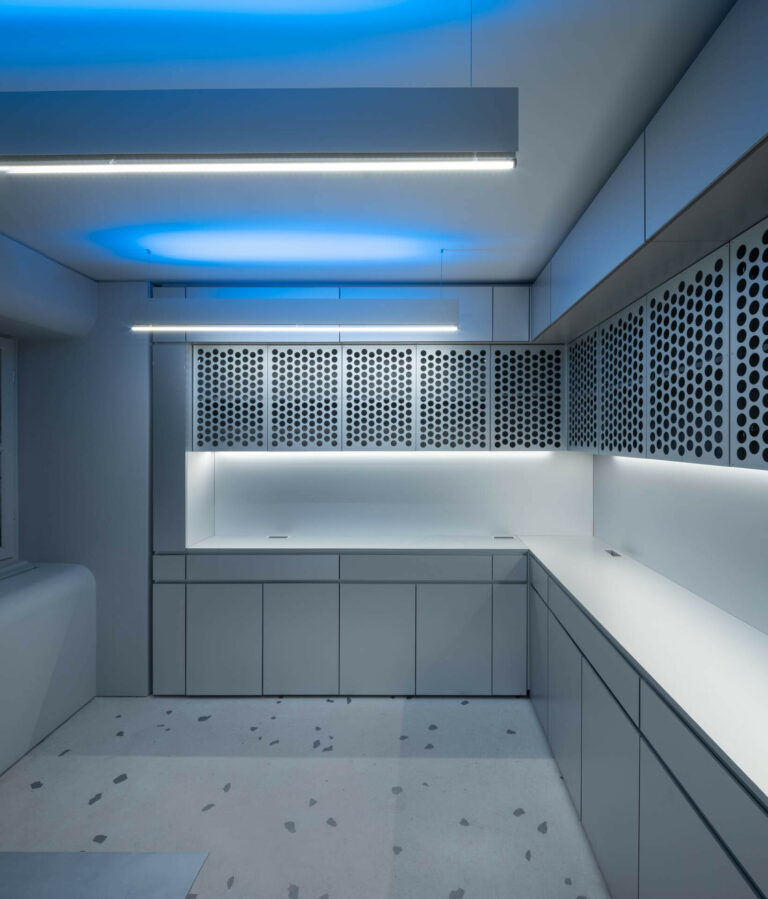 The project seeks to create experimental composites diversified with production techniques that recycle surplus materials belonging to the production phases of textile and architectural practices. In a renewed outlook on what it means to be sustainable within this new nature, the experimental use of production waste was put to test. Waste aluminum parts became the aggregate of the recycled metal terrazzo flooring, creating a durable and maintenance-free element.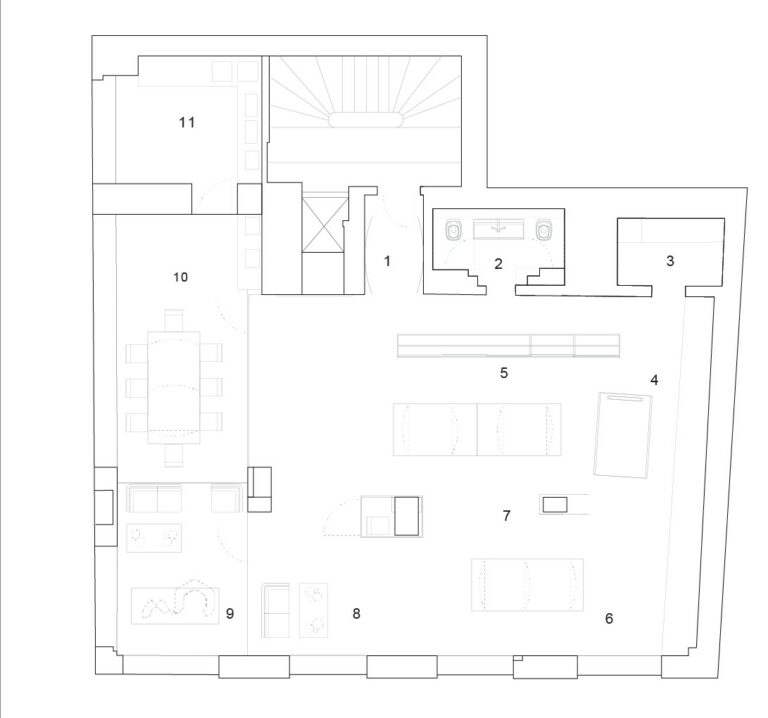 1. Reset Room
2. Wc
3. Kitchen
4. Merch Area
5. Merch Team
6. Design Team
7. Zoom Booth
8. Showroom
9. Office
10. Meeting Room
11. Makers Lab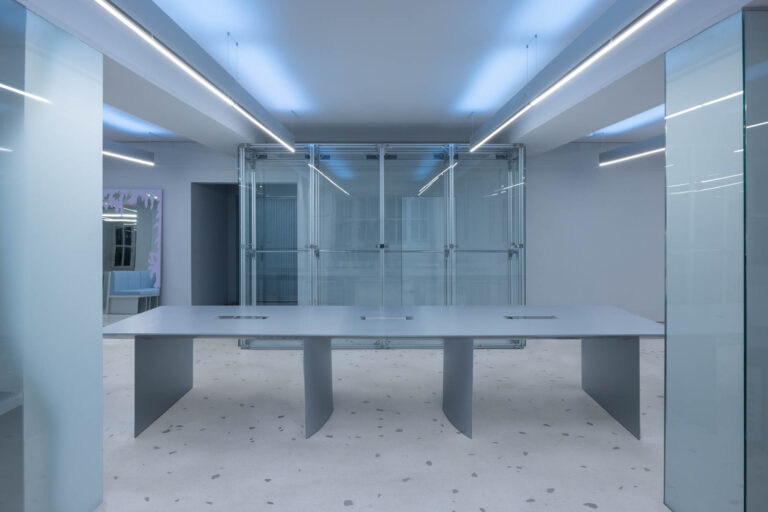 Every detail of the furniture was carefully considered by our team. Sigma profiles used in transparent cabinet allow fast, mechanical and versatile design possibilities through its channelled structure and joining details.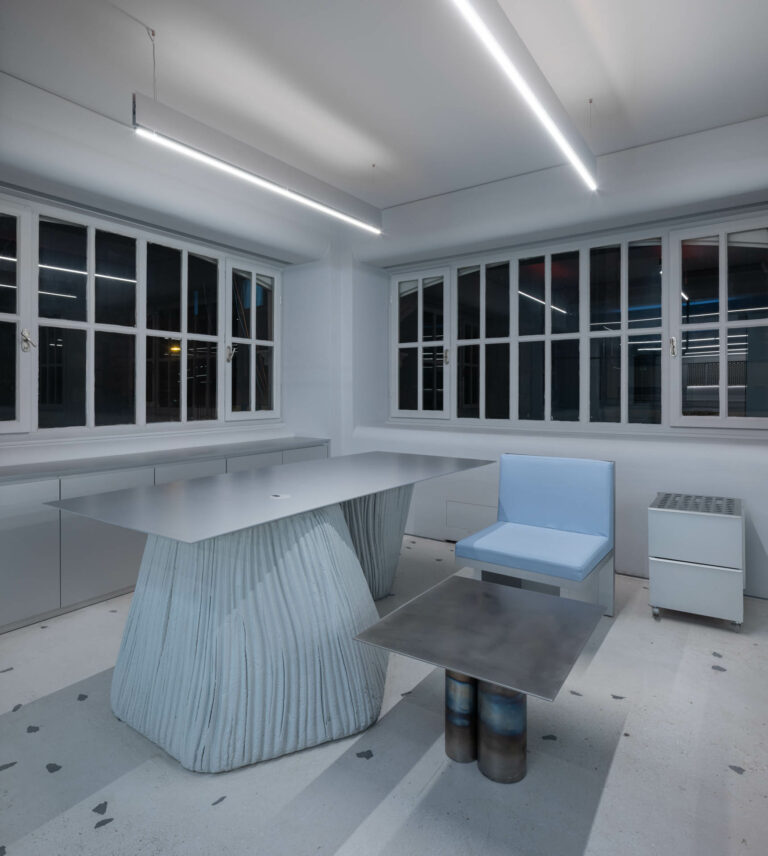 The table detail which can be obtained without molding as a result of shaped styrofoam with hot wire technique and covered with polyurea, is designed to provide maximum strength in the desired organic form.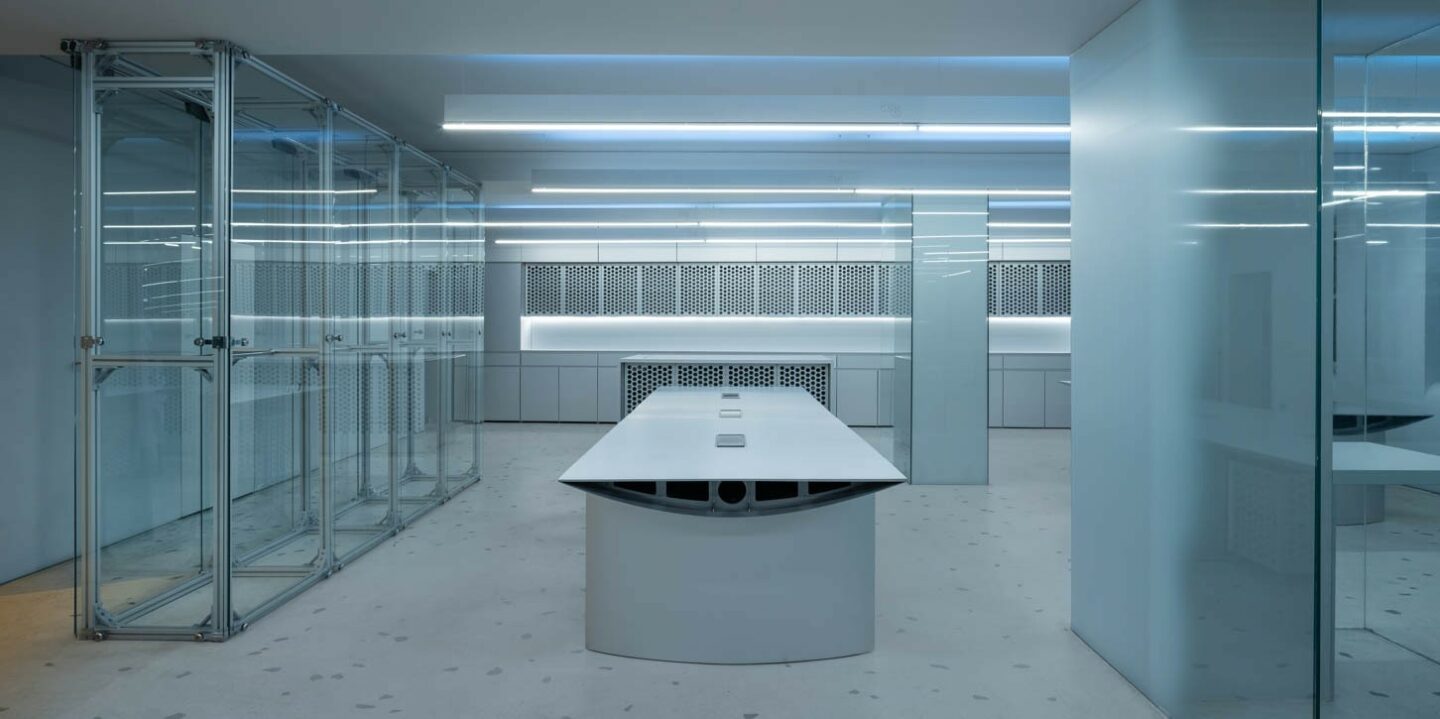 / At the heart of Reflect Studio, laboratory space where the designers cook up new ideas and designs.
Inspired by the aerodynamic system of the aircraft wing, "Aero Desk" was designed by placing a carcass system inside to provide maximum strength with minimum lightness and also minimises the section thickness of the material in use and reflects the image of an aerodynamic object.
Perforated mesh structure used in storage areas and caissons helps us see the color chart scale and provides transparency. Rather than merely highlighting the products with spotlights, aluminium lighting elements were homogeneously distributed in the ceiling to illuminate the total space. And RGB led units illuminate the ceiling with transforming colours attuned to the daylight environment.