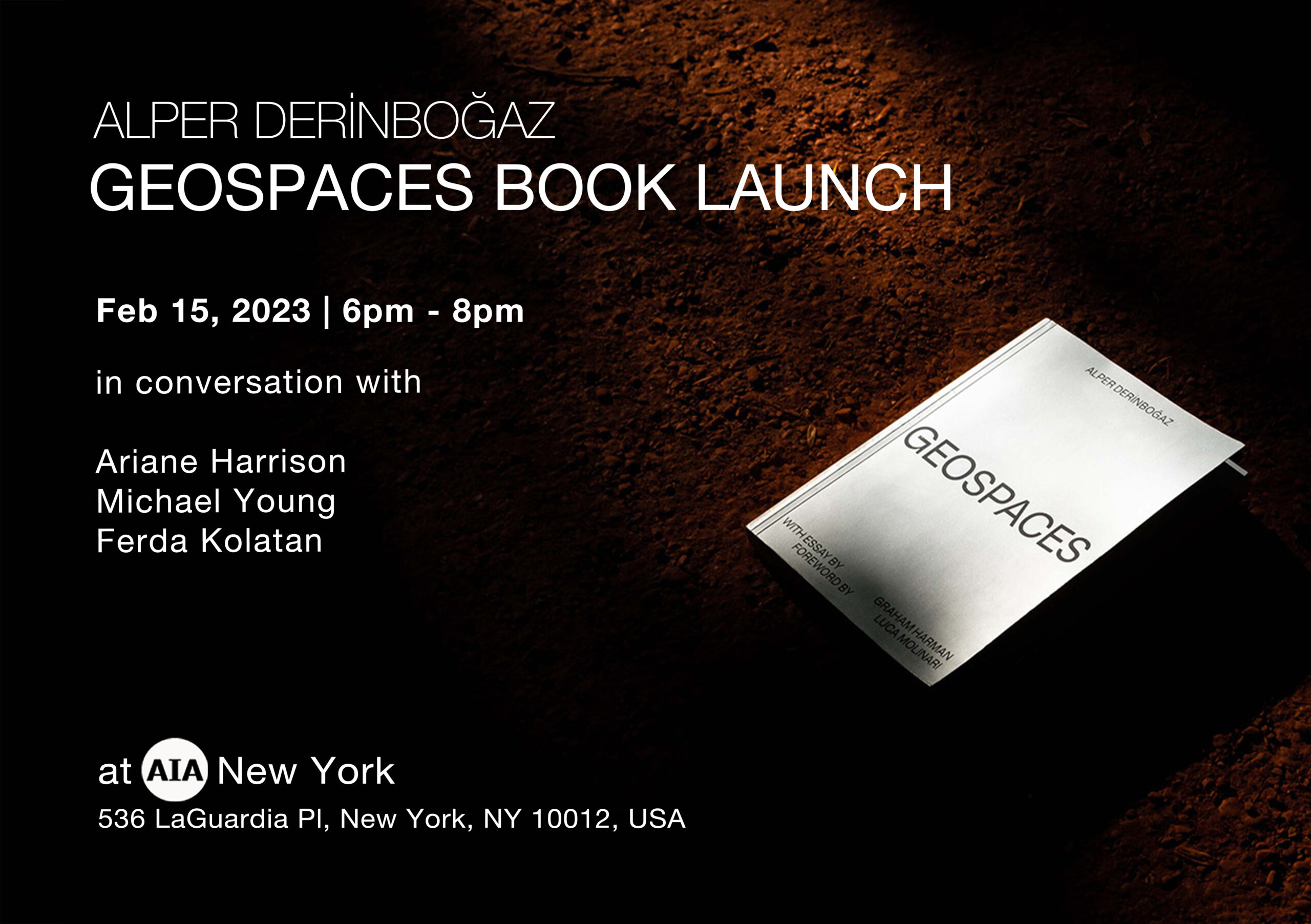 Alper Derinboğaz's Geospaces Book Launch at AIA New York Center of Architecture
06 / 02 / 2023
Geospaces Book Launch by Alper Derinboğaz, AIA New York on Feb 15
AIA New York Center of Architecture open its doors to the public for a very special book launch by Alper Derinboğaz. He is founder of Salon, the internationally renowned architecture studio based in Istanbul, Berlin and recently Los Angeles known for its award-winning projects such as Museum of Istanbul, pandemic-resistant office design Ecotone and zero-emission Villa Topos.
The book launch event, Future Terra Formations, where Alper Derinboğaz will share insights and anecdotes from his new book, Geospaces (Actar Publishers, 2022) will also feature a panel discussion with Ariane Harrison, Michael Young, and Ferda Kolatan on how buildings can be seen as iterations of nature through spatial intelligence.
Geospaces is an extended visual essay of ideas, images, drawings, and projects that follows the work of Alper Derinboğaz over the past decade, framing an approach based on empathy with the earth. Together with the insightful foreword by curator and architectural critic Luca Molinari, Geospaces features the essay "Selective Permeability in Architecture" by Graham Harman, one of the most influential names in contemporary philosophy.
In his book, Derinboğaz traces relationships between topography, geology, genetics, ecologies, and construction technologies, arguing that a hybrid approach to making will shape our future habitats.
DATE AND TIME: Wed, Feb 15, 2023 6pm – 8pm EST 
Sign up for the event below in the format that best suits you
Join Online or In person at the AIA New York Center for Architecture:


GEOSPACES: Future Terra Formations
(For more information and press release please contact to press@salonarchitects.com)
ABOUT
Name of the book: Geospaces
Publication Date: December, 2022
Publisher: Actar Publishers
Work by: Alper Derinboğaz
Foreword: Luca Molinari
Guest Writer: Graham Harman
Editor: Emmy Bacharach
Design: Hazal Özkaya, Ceren Abay
Creative Direction: Furkan Temir, Hazal Özkaya
Special thanks to: Anna Masello, Anja Visini, Bahar Türkay, Blaine Brownell, Di̇lek Öztürk, Debora Vella, Edipcan Yıldız, Emre Taş, Enise Derinboğaz, Kutan Ayata, Laura Pedata, Loris Rossi, Ma Yansong, Marcelyn Gow, Nicola Cherubini, Refik Anadol, Reinier de Graaf, Simona Finessi, Sinan Logie
Photography of the book: Hazal Özkaya, Ceren Abay
First Edition: Printed in Istanbul November 2022