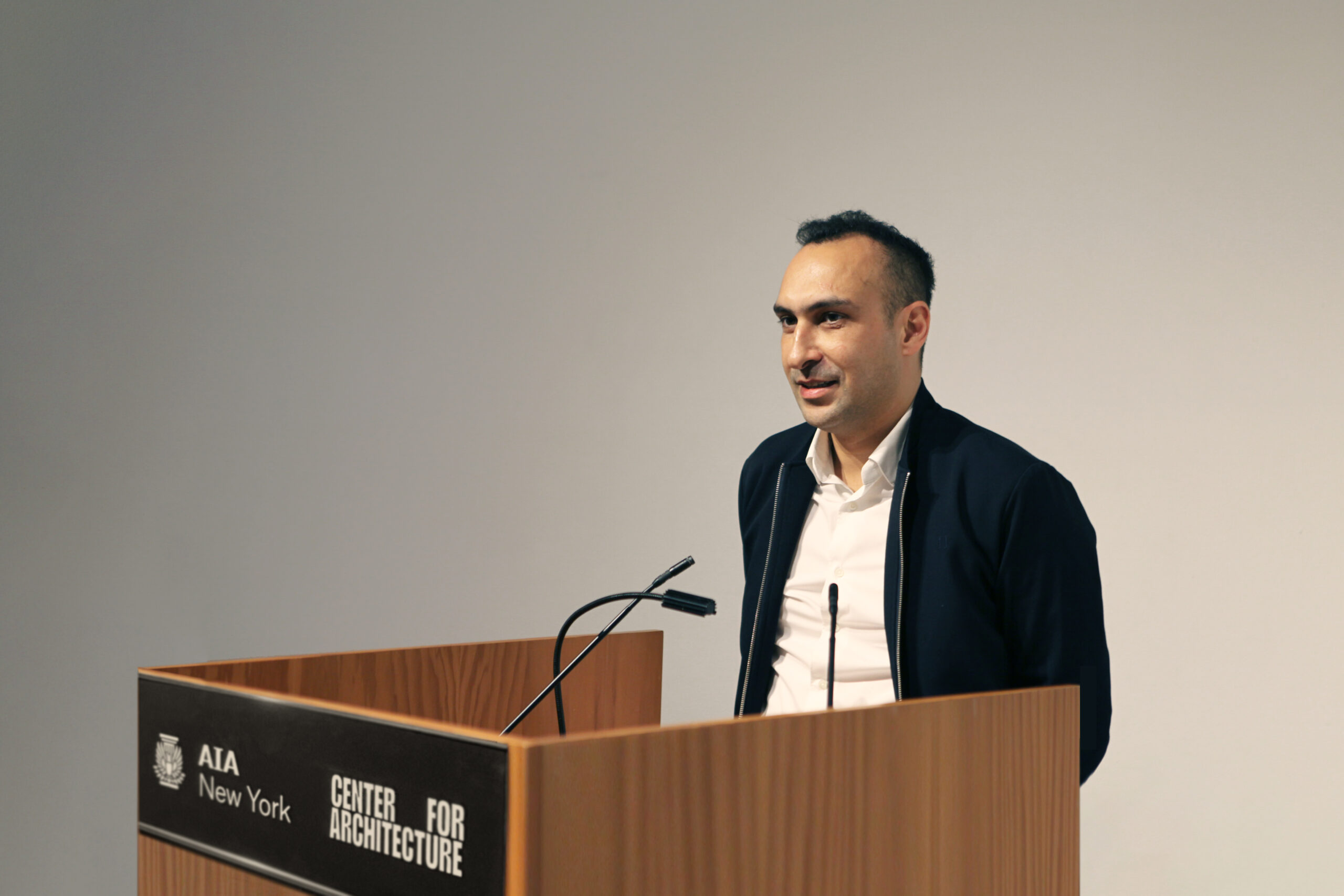 Geospaces Book Launch at AIA NY Center for Architecture
15 / 02 / 2023
The AIA New York Center of Architecture held a book launch event featuring Alper Derinboğaz, the founder of Salon, a prominent architecture studio with offices in Istanbul, Berlin, and Los Angeles. Derinboğaz, known for his award–winning projects such as the Istanbul Museum, the pandemic–resistant office design Ecotone, and the zero–emission Villa Topos, shared insights and the reasoning behind these projects at the 'Geospaces' book launch event, which was open to the public and marked a special occasion.
During the Geospaces (Actar Publishers, 2022) book launch event, there was a panel discussion featuring Ariane Harrison, Michael Young, and Ferda Kolatan that explored the concept of spatial intelligence and how it can be used to view buildings as extensions of nature. The speakers examined various aspects of this idea and provided insights into how it can be applied in architectural practice.

Geospaces is an extended visual essay of ideas, images, drawings, and projects that follows the work of Alper Derinboğaz over the past decade, framing an approach based on empathy with the earth. Together with the insightful foreword by curator and architectural critic Luca Molinari, Geospaces features the essay "Selective Permeability in Architecture" by Graham Harman, one of the most influential names in contemporary philosophy.
In his book, Derinboğaz traces relationships between topography, geology, genetics, ecologies, and construction technologies, arguing that a hybrid approach to making will shape our future habitats.
During the panel, Ariane Harrison (RA, AIA, Principal, Co–Founder, Harrison Atelier; Coordinator, Pratt Institute) referred to the question in the book "What if we see architecture as an iteration of nature rather than an artificial object?" stated that:

"The book refers the constant modification of a space that stages architecture. We should remember that is not exclusive to the human species inhabitation is opportunistic dynamic adaptive in the best of cases among many species. Can architecture as a habitat and architecture whose facade signals habitation develop material intelligence in its manifold dimensions economy locality ecological consciousness to bring multiple scales of existence into human ethical regard? And Geospaces is a text that asks us to question these relations at a planetary scale."

Harrison also quoted Derinboğaz, who said, "We tend to think of things as objects in clearly defined categories, although we live in a tangled web of intertwined connections. In reality, we do not create spaces but we modify them."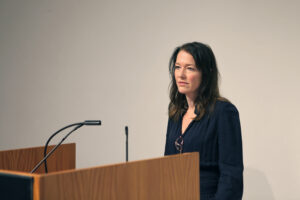 Afterwards, Michael Young (RA, Founding Partner, Young & Ayata; Associate Professor, The Cooper Union) scrutinized the notion of "ground" with the following words:

"Every architecture actually tells a story about a ground, about the way in which they consider their architecture to build a new ground – the ground that can flow through and under the building and then be reproduced on its roof." He added, "We can hopefully begin to make sense of a path for architecture to deal with grounds and new manners in the future."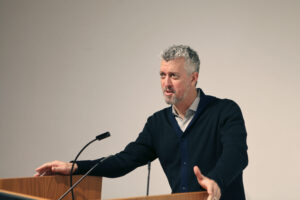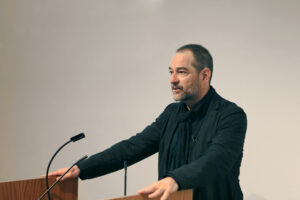 Panel continued with the speech of Ferda Kolatan, (Founding Director, su11; Associate Professor, University of Pennsylvania).

"Cycle of like building up creating architecture and also destroying or destructing architecture that is geological architecture and it's happening over millions of years and it's something that I think it's very interesting again our time where we have a very altered understanding of you know, what the planet is what planetary actions and agencies are and how they come to fruition."
The launch record can be accessed via: Geospaces Book Launch (https://www.youtube.com/watch?v=DWlfzPVcDPY&t=836s)
You can also purchase the "Geospaces" Book via: Actar Publishers (https://actar.com/product/geospaces/)
Details
Name of the book: Geospaces
Publication Date: December, 2022
Publisher: Actar Publishers

Work by: Alper Derinboğaz
Foreword: Luca Molinari
Guest Writer: Graham Harman
Editor: Emmy Bacharach
Assistant Editor: Emre Taş

Design: Hazal Özkaya, Ceren Abay
Creative Direction: Furkan Temir, Hazal Özkaya
Special thanks to: Anna Masello, Anja Visini, Bahar Türkay, Blaine Brownell, Di̇lek Öztürk, Debora Vella, Edipcan Yıldız, Enise Burcu Derinboğaz, Kutan Ayata, Laura Pedata, Loris Rossi, Ma Yansong, Marcelyn Gow, Nicola Cherubini, Refik Anadol, Reinier de Graaf, Simona Finessi, Sinan Logie
Photography of the book: Hazal Özkaya, Ceren Abay
First Edition: Printed in Istanbul November 2022

Speakers:
Alper Derinboğaz, Int'l Assoc. AIA, Founder, Salon Alper Derinboğaz
Ferda Kolatan, Founding Director, su11; Associate Professor, University of Pennsylvania
Michael Young, RA, Founding Partner, Young & Ayata; Associate Professor, The Cooper Union
Ariane Harrison, RA, AIA, Principal, Co–Founder, Harrison Atelier; Coordinator, Pratt Institute
(For more information and press release please contact to press@salonarchitects.com)
For video : https://vimeo.com/801001395