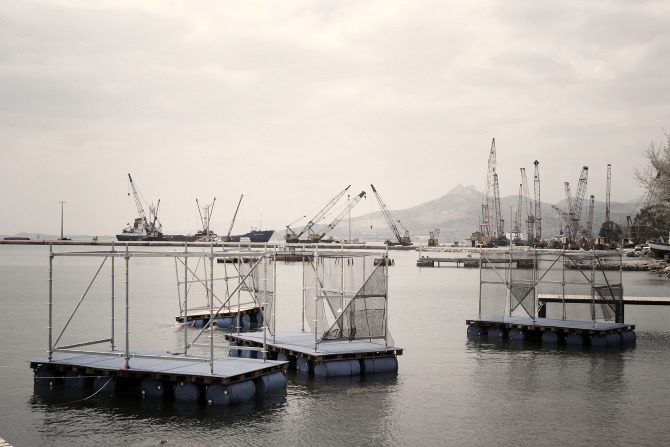 FLOATD
Location
Elefsina, Greece
Design
Nil Aynalı, Alper Derinboğaz & Frederik De Smedt
Team
Wendy Adams, Brenda Agius, Marko Arandelović, Denis Adnet, Carlos Cabrera Pernia, Luka Chkheidze, Irakili Chochia, Jesus Diaz Osuna, Ewa Dudek, Paul Flynn, Doris Grossfessnerhain, Javier Guerra, Agata Guzik, Victoria Falzon, Emmet Kenny, Paolo Maselli, Sarabelle Montebello, Julia Pasternak, Karol Pasternak, Alvaro Paya Piqueras, Dimitrije Radosavljević, Dimitar Rahov, Steve Scicluna, Roderick Spiteri, Lyuba Stoimenova, Aneta Wiatr
Construction supervision
Frederik De Smedt in collaboration with Enise Burcu Karacizmeli & Beppe Lanfranchi
float'd | workshop for the European Architecture Students Assembly.
"We have much less poetic versions of such structures everywhere today. They are called pop-ups: often containers, they are sometimes just bits of canvas and scaffolding, and house stores or restaurants during a festival or whenever and wherever a lot of people gather. They are utilitarian, but full of life and often ingenious in their designs. Few architects ever design them."  Architecture Matters, Aaron Betsky.
The float'd team constructed 5 floating platforms which were anchored near the waterfront of Elefsina, creating interaction between the beach, the local community and the participants of the workshop. The platforms had different functions: a coctailbar, a dancefloor, a chill-out place and the lovebox in "open sea". They were connected with each other by small bridges.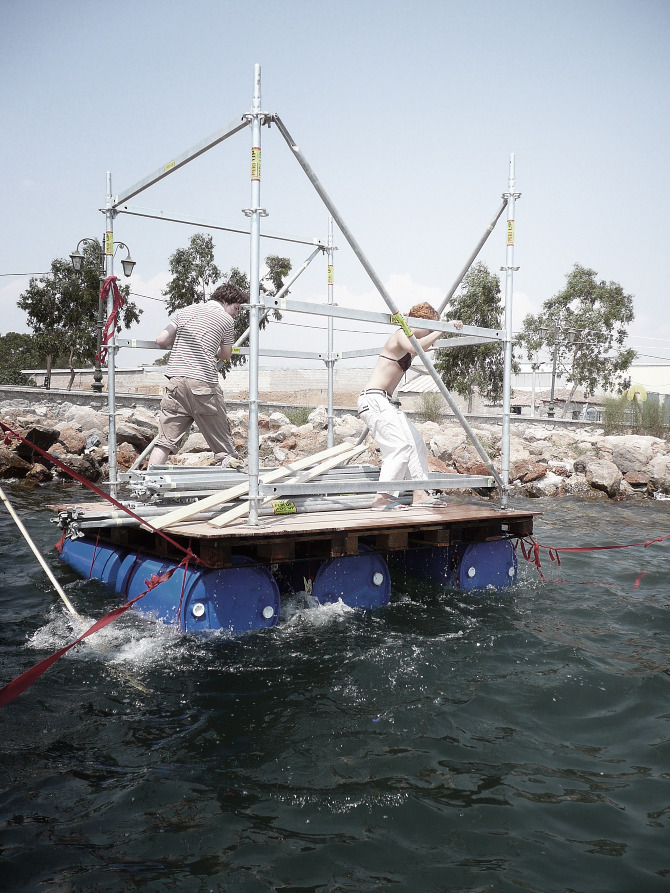 We constructed the spaces on the platforms from a scaffolding structure with wooden and canvas facades, on which we painted ourselves. These platforms were carried by second hand forklift-pallets attached to second hand barrels.
The end-result was a main platform (four out of five platforms tied together) which was supposed to be use as the bar, dance floor and lounge. A seperated love box platform was able to be detached from those to obtain maximum privacy. The whole was floating ambiently lit, rightly sounding and with projections on the canvas cubes.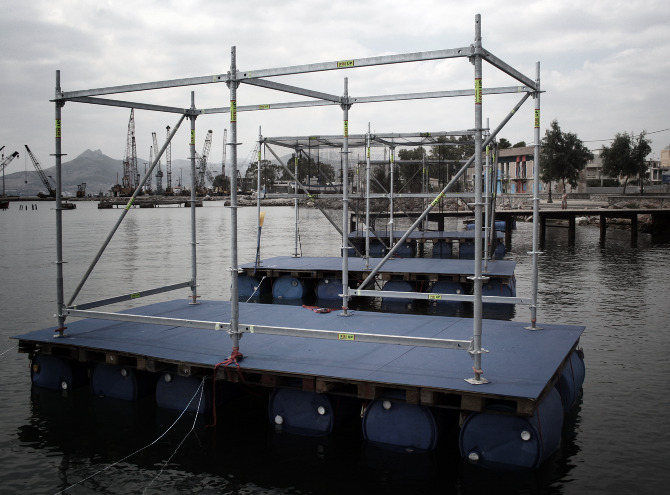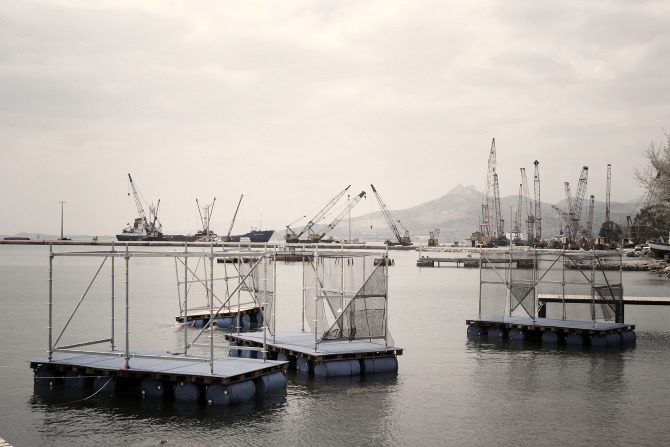 The challenge of this workshop was firstly to make the previously described platforms float; secondly to choose certain materials and put them together in such a way that the majority of the construction would be recyclable/re-usable after the European Architecture Student Assembly had finished.