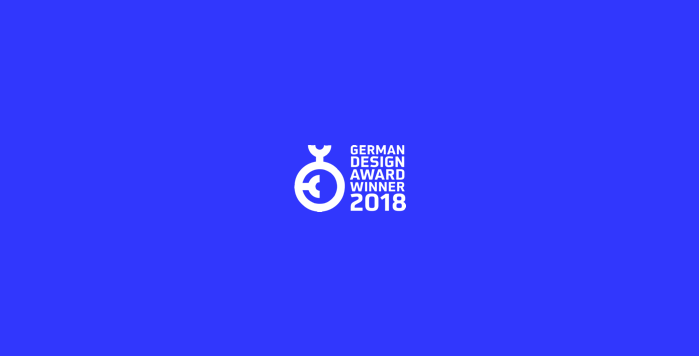 We won the German Design Award
09 / 02 / 2018
"This concept entails an intelligent interplay between a monumental and sculptural design aesthetic, whose solid-cement effect is merely simulated. A magnificent concept, featuring an impressive effect from a distance and amazing lightness close up." German Design Award Jury Statement
Launched in 2012, The German Design Award is an international prize from the German Design Council aiming to discover, present and honor unique design trends that are in their own way ground-breaking in the international design landscape. It is one of the best-respected design competitions in the world, and is held in high regard well beyond professional circles.
The number of participants in the Excellent Communications Design category exceeded 5,000 this year. Products and projects were submitted from 56 countries, with international submissions expanding to 48% of all entries. The international jury, consisting of representatives of economy, science and design, worked hard to compile a selection of especially outstanding designs. In the competition's 49 categories, a total of 45 gold prizes were awarded. Parkopera won the German Design Award in the Excellent Communications Design, Architecture category.
Parkopera is a multi-purpose cultural facility uniting a neighborhood with its surroundings through various events taking place in Park and Platform.
Parkopera hosts shows, concerts, and similar activities at certain hours of the day, and with its lounge, integrated into PARK life throughout the day, the target is to host externally-organized cultural events, and to make these events accessible to everyone on a neighborhood scale. The hall has a busy schedule, with a show center, studio and rehearsal rooms as an opera hall, and the lounge overlooking the park, opens up to park life, in harmony with the daily rhythm of life on a neighborhood scale.
On the upper level of the foyer, the PLATFORM is used as an audience platform for different types of shows. The lodges attached to the PLATFORM, on the other hand, have been designed as a mezzanine floor to serve either as a café, bookstore, bistro or other similar functions.