Fitaş Passage project by Salon Alper Derinboğaz at "the New Together" exhibition in Venice
24 / 06 / 2023
Salon Alper Derinboğaz, founded by Alper Derinboğaz is delighted to announce their participation in "the New Together" exhibition organized by Casa Platform.
The event held in conjunction with the 18th Venice Biennale, featured Salon's "Fitaş Passage" project, which is an extraordinary example of adaptive re-use of an arcade building located on Istiklal Street, a significant axis in the heart of Istanbul.
The Exhibition brings together 140 international projects and is open from May 20 until July 30 in the prestigious setting of the Scuola Grande di Misericordia in Venice.
In addition, Alper Derinboğaz will give a lecture on 24 June, as part of the palimpsest developed during the Platform Architecture Festival. The speeches of all authors of the selected projects will continue between 23-26 June 2023.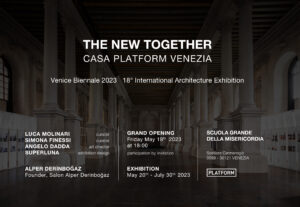 DATE AND TIME
Exhibition: May 20 – July 30, 2023
LOCATION
Scuola Grande Della Misericorida
Sestiere Cannaregio, 3599 – 30121 VENEZIA
———————————————————————————————————————————————
Curatorship: Luca Molinari and Simona Finessi
Art Director: Angelo Dadda
Exhibition Design: Superluna
For more information:
https://www.platformarchitecture.it/en/the-new-togheter-a-possible-manifesto/